There are quite a few online services that help you locate people in the home maintenance and repair business, including: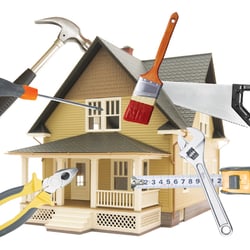 HomeStars: A database of contractors and tradespeople, with reviews. There were mixed comments about the experience of using this service. One reader said he's had good success using HomeStars, while a couple of others said good reviews do not necessarily mean you'll be happy with the work.
Houzz: A website offering reno design ideas and a way to connect with construction pros.
Jiffy: Quickly connects you with home maintenance people, with pre-set rates.
ProjectUp: Launching this month, ProjectUp offers the opportunity to post your project on the website and have contractors bid on the project.
https://setter.com/: Bills itself as a "personal home manager" that will help you find people to tackle all your household jobs.
Referrals from neighbours, family and friends: A few people mentioned that they used contractors who had already done work for their neighbours.
Community Facebook pages: These are a great place to ask for referrals. Google and Yelp ratings: They're worth checking before you hire someone.
Once you found someone to get you renovation done, give us a call to assist with the financing 877-357-5366
****NEW OFFICE LOCATION****
106- 5017 Victoria Ave Niagara Falls L2E4C9
Michael Distefano
Mortgage Agent and Manager of operations
DLC BTB Mortgage Solutions FSCO 12039
Niagara's largest Mortgage Broker
106- 5017 Victoria Ave Niagara Falls L2E4C9
T 905 357 5366 F 905 357 6654 C 905 246 5363
APPLY ONLINE ANYTIME http://betterthanbankmortgage.com/mortgages/how-to-apply/
Check out our full line of DLC Visa cards http://betterthanbankmortgage.com/visa-cards/
Story Credit
PERSONAL FINANCE COLUMNIST
OTTAWA
rcarrick@globeandmail.com
http://www.robcarrick.com/