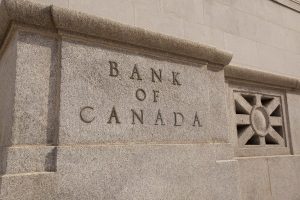 DLC BTB Mortgage Solutions FSCO 12039
Niagara largest Mortgage Team
106- 5017 Victoria Ave Niagara Falls L2E4C9
T 905 357 5366 F 905 357 6654 C 905 246 5363
APPLY ONLINE ANYTIME http://betterthanbankmortgage.com/mortgages/how-to-apply/  
As expected, the Bank of Canada held rates steady at 1.25% for the third consecutive month but said that first-quarter growth was stronger than expected and that developments since April suggest that higher interest rates will be warranted. The first quarter GDP numbers are out tomorrow morning, and it's clear the Q1 growth will be above the 1.3% figure the Bank projected in the April Monetary Policy Report. This opens the door for a rate hike possibly as soon as the next meeting on July 11. The Canadian dollar rallied on this news as many feared that the Bank was behind the curve in responding to a recent rise in overall inflation–induced by higher gasoline prices–and very tight labour markets.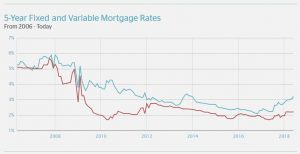 Uncertainty remains on the NAFTA front, dampening global business investment. Canadian firms long for a bright and stable resolution of trade conflicts with the U.S., which continues to be elusive. Business investment picked up in the first quarter and the Business Outlook Survey released in late June will give the central bank a window on business intentions before the next policy meeting.
Concerning the housing market, the Bank's press release noted that "Housing resale activity has remained soft into the second quarter, as the housing market continues to adjust to new mortgage guidelines and higher borrowing rates. Going forward, solid labour income growth supports the expectation that housing activity will pick up and consumption will continue to contribute importantly to growth in 2018."
Not everyone shares this optimism. The past week's bank earnings releases show that mortgage originations have slowed considerably from year-ago levels and some have suggested that weak activity will prevail for the rest of the year. The posted mortgage-rate, which is used to qualify borrowers, has risen to 5.34%, making it more difficult for some to gain approval, particularly at the federally regulated lenders. Variable mortgage rates are much lower as the gap between fixed and floating rates has hit historical highs.
Bottom Line: The central bank statement was much more hawkish than expected suggesting we are on target for a rate hike in July and another one is likely in October as well. The Bank of Canada raised rates three times since the middle of last year as the economy moved closer to full capacity. But the Bank has been in a holding pattern since January cautiously waiting to see the results of trade negotiations and the degree of the slowdown in housing. These factors will determine the pace of future rate hikes with the Bank estimating its neutral rate is 3%, more than double the current overnight rate. The Bank will only very gradually approach that level, mindful of the impact on an overly indebted household sector.
DR. SHERRY COOPER
Chief Economist, Dominion Lending Centres 
Sherry is an award-winning authority on finance and economics with over 30 years of bringing economic insights and clarity to Canadians.