By Josh Rubin Business Reporter Wed., Jan. 25, 2023
Central bank signals its rate-hiking campaign could finally be over, while it "assesses the impact of the cumulative interest rate increases." The interest rate hikes are over — probably.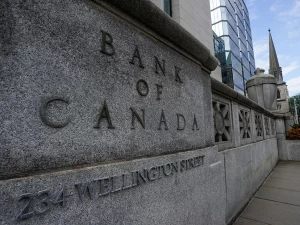 The Bank of Canada raised its key overnight lending rate for the eighth straight time Wednesday morning but signaled its rate-hiking campaign could finally be over.
The central bank bumped the overnight rate up by 25 basis points — a quarter of a percentage point — to 4.5 percent, just what markets had been expecting.
"If economic developments evolve broadly in line with the … outlook, Governing Council expects to hold the policy rate at its current level while it assesses the impact of the cumulative interest rate increases," the Bank said in a news release announcing the 25-basis point increase.
The Bank also said previous hikes have been having their desired effect of slowing inflation by hitting consumer demand.
"There is growing evidence that restrictive monetary policy is slowing activity, especially household spending. Consumption growth has moderated from the first half of 2022 and housing market activity has declined substantially," the Bank said.
"As the effects of interest rate increases continue to work through the economy, spending on consumer services and business investment is expected to slow. Meanwhile, weaker foreign demand will likely weigh on exports. This overall slowdown in activity will allow supply to catch up with demand," the Bank predicted.
The Bank also said the Canadian economy likely grew by 3.6 percent in 2022, slightly higher than it had forecast in October. It also predicts the Canadian economy will grow by just one percent this year, and by two percent in 2024.
The Bank also released its quarterly analysis of the state of the Canadian economy, and for the first time ever, published minutes of its internal debate that led to Wednesday's decision.
In an attempt to get inflation under control, the Bank raised the overnight lending rate seven times in 2022, most recently bumping it by 50 basis points (half a percentage point) to 4.25 percent in early December.
The overnight rate began last year at 0.25 percent, where it had been since the Bank dropped it three times in one month in March 2020, as the global COVID-19 pandemic was declared.
The theory is that by making it more costly to borrow money, people will spend less, eventually driving prices down.
A survey released last week by the Bank of Canada found consumers are keeping a wary eye on their spending because they expect inflation to keep soaring.
The survey found that a majority of Canadians are expecting a "mild to moderate" recession over the next 12 months.
The survey found that Canadians have reduced their spending on a wide variety of goods and services in response to interest rate hikes and inflation, and a growing share expects to keep cutting back.
A business confidence survey by the Bank also found companies are pulling back on plans because they expect sales to slow. According to the business outlook survey, two-thirds of firms expect a recession in the next 12 months.
Michael Distefano
C: 905-246-5363
Email; dlcbtbniagara@gmail.com  
1-4687 Queen St Niagara Falls, ON, L2E 2L9
Website: www.betterthanbankmortgage.com