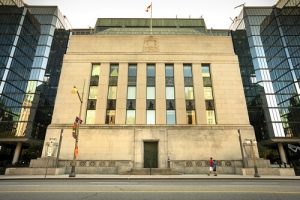 By Steve Randall 25 Sep 2019 Broker News
Mortgage rates are expected to remain at roughly their current level through to the end of 2020 according to a new forecast.
The British Columbia Real Estate Association's Economics team says that, notwithstanding any major changes to the economic landscape, the 5-year qualifying rate is set to remain at 5.19% in the fourth quarter of 2019 with the 5-year average discounted rate at 2.77% (down from 2.86%).
Falling bond yields in the third quarter have helped reduce the 5-year contract rate with some fixed-rates of as low as 2.25%. However, those borrowers that are subject to the B-20 mortgage stress test will see the qualifying rate hold steady despite the lower rates offered by lenders. The lack of variation in the qualifying rate is "a puzzle" the report says.
BoC on hold
BCREA Economics does not see the Bank of Canada making any changes to interest rates in the near term but notes that major changes in the economy may prompt a cut. For now though, employment and inflation data support a hold-steady for monetary policy.
The report calls for the Canadian economy will post trend growth of about 1.8% in 2020, though "significant downside risks remain due to elevated trade tensions and their consequent impact on exports and investment."
Michael Distefano
Mortgage Agent and Manager of operations
DLC BTB Mortgage Solutions FSCO 12039
Niagara's largest Mortgage Broker
106- 5017 Victoria Ave Niagara Falls L2E4C9
T 905 357 5366 F 905 357 6654 C 905 246 5363
Download My FREE Mortgage Toolbox App https://www.dlcapp.ca/app/michael-distefano?lang=en
APPLY ONLINE ANYTIME http://betterthanbankmortgage.com/mortgages/how-to-apply/
Check out our full line of DLC Visa cards http://betterthanbankmortgage.com/visa-cards/