The central bank has returned to rate increases after a pause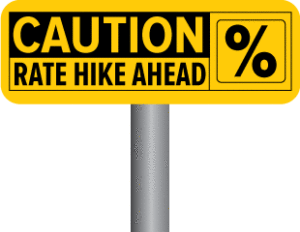 The Bank of Canada has announced a 25-basis-point increase to its benchmark interest rate, returning to a rate-hiking policy after hitting a pause in its last two announcements.
The move, which brings that trendsetting rate to 4.75%, arrives amid a flurry of new data in the past month suggesting the economy is still running hotter than the Bank would prefer.
In its statement accompanying the decision, the Bank said it deemed monetary policy "not sufficiently restrictive" to restore the supply-demand balance and push inflation back towards its 2% target.
It noted that "concerns have increased" that inflation could remain persistently higher than that level, although its expectation that it will ease to around 3% by mid-summer remains unchanged.
That annual rate of inflation ticked unexpectedly upwards in April – rising by 0.1% over the prior month – and GDP growth continued at a pace of 3.1% in the first quarter.
Canada's labour market, meanwhile, remains resilient in the face of the central bank's efforts to slow the economy, adding 41,000 jobs in April, while the national housing market also shows signs of beginning to heat up again after a months-long slowdown.
The announcement marks a departure of sorts from the Bank's apparent willingness in recent statements to keep rates where they are – but comes as little surprise, with about one in five economists surveyed by Bloomberg before the decision expecting rates to increase today.
Swap market traders had also raised expectations of an imminent jump prior to the announcement, fully pricing in a rate increase by July 12, the date of the Bank's next scheduled decision.
The Bank kept its benchmark rate, which heavily influences variable mortgage rates in Canada, at a rock-bottom 0.25% throughout much of the COVID-19 pandemic – but as inflation surged last year, it began an aggressive rate-hiking campaign that saw a 425-basis-point spike in under a year.
Michael Distefano
Mortgage Agent
1-4687 Queen St Niagara Falls, ON, L2E 2L9
905.246.5363 dlcbtbniagara@gmail.com
Dominion Lending Centres BTB Mortgage Solutions
Independently Owned & Operated