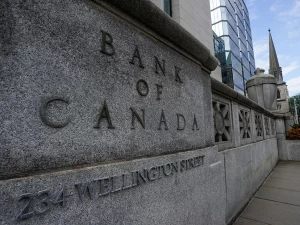 Nearly all' mortgages will see payments increase by 2026 – but most households should cope
The Bank of Canada has expressed its concern over households' ability to absorb the shock of higher borrowing costs as a growing number turn to credit cards to service their debt loads.
In its annual Financial System Review, released on Thursday, the central bank said that while most Canadian homeowners appear to be coping with the impact of higher interest rates, "pockets of strain" are emerging, particularly among those who purchased during the COVID-19 pandemic.
The Bank said Canadian households that took on a mortgage between 2020 and 2022 were carrying over an average of about 17% more credit card debt than those that purchased between 2017 and 2019, while the share of indebted households behind on their payments in any credit category for at least 60 days has been growing since the middle of last year.
Watch to get the key highlights of the latest analysis of Canada's financial system.https://t.co/U8oqSb8wl7#FinancialSystems #economy #cdnecon pic.twitter.com/IFrHXw0iUq

— Bank of Canada (@bankofcanada) May 18, 2023
By 2026, "nearly all" mortgages will see payments increase, the Bank said, with the median payment between now and that year expected to rise by about 20%. Payments have already increased for about one-third of mortgages compared with February 2022, it added.
Those looming spikes are expected to be manageable for most households, according to the Bank, with the stress test imposed on federally regulated financial institutions meaning their borrowers have already proven they can handle higher costs.
Still, it said that while many of those financial institutions have introduced relief options for Canadians struggling with their payments, "for some households, the combination of higher DSRs, lower home equity and longer amortization periods will reduce household flexibility in the event of added financial stress, such as reduced income."
Michael Distefano
Operations Manager
P: 905-357-5366 M: 905-246-5363
dlcbtbniagara@gmail.com www.betterthanbankmortgage.com
1-4687 Queen St Niagara Falls, ON, L2E 2L9
Dominion Lending Centres BTB Mortgage Solutions
Independently Owned & Operated