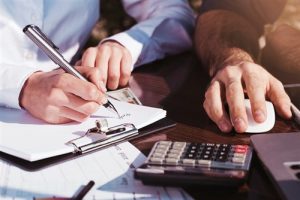 OTTAWA _ A pair of unexpectedly soft economic reports are creating fresh doubts about the timing of the Bank of Canada's next interest rate hike.
For months, experts have been predicting Bank of Canada governor Stephen Poloz to raise his benchmark rate at next month's meeting. But broadening economic unknowns _ mostly linked to trade concerns around U.S. President Donald Trump's protectionist agenda _ have begun to lead some analysts to wonder if Poloz will stand pat on July 11.
And on Friday two reports from Statistics Canada added more uncertainty to the interest rate outlook.
One release by the agency found Canada's annual inflation rose at a pace of 2.2 per cent in May for the second straight month. The number, however, was cooler than market expectations of 2.6 per cent.
In the second report, Statistics Canada found that retail sales contracted in April by 1.2 per cent for the reading's first month-to-month decline since December.
"These reports kind of highlight an economy that has slowed pretty significantly from the last year or two," Robert Kavcic, senior economist for BMO Capital Markets, said in an interview.
"Given a lot of the uncertainty out there, and a little bit of a softer tone to this data, I think expectations for a July rate hike have probably come down a little bit."
Royce Mendes of CIBC Capital Markets wrote in a report that Friday's "bad data" make it even more difficult for the Bank of Canada to hike rates in July. Mendes noted, however, that things could improve before Poloz's July 11 meeting because more important numbers on gross domestic product and employment are still on the way.
Nathan Janzen, RBC senior economist, said the combination of Friday's figures, somewhat slower economic growth and a deteriorating tone in trade discussions with the U.S. "aren't all that encouraging" and will make the Bank of Canada's rate decision closer than previously thought.
Ranko Berich, head analyst at Monex Canada and Monex Europe, said the central bank's July rate decision is "now an unknown factor."
The hunt for clues into Poloz's thinking will continue next Wednesday when he gives a speech to the chamber of commerce in Victoria, B.C.
The May annual inflation number in Friday's report followed the 2.2 per cent reading for April and 2.3 per cent for March.
The main contributors to inflation last month were led by gasoline prices. Compared to a year earlier, they climbed 22.9 per cent in May and helped drive overall energy prices for the month 11.6 per cent higher.
Inflation also received a lift because Canadians paid more last month for restaurants, airline tickets and mortgage interest costs.
Consumers, however, paid less in May for telephone services, natural gas and digital devices and computers.
The report also found the average of the Bank of Canada's three measures of core inflation, which leave out more-volatile numbers like pump prices, slowed to 1.9 per cent last month.
The core readings, which are closely monitored by the central bank, averaged 2.03 per cent in April, which was the strongest pace in six years.
On retail trade, the April contraction of 1.2 per cent pulled total sales down to $49.5 billion.
The April decrease was mostly due to a 4.3 per cent decline in sales by motor vehicle and parts dealers _ with new car dealerships reporting a 5.1 per cent drop and used car lots seeing a contraction of 4.1 per cent.
Statistics Canada said April's unusually cool temperatures and bad weather in many parts of the country may have been to blame for the overall decline.
The decrease was concentrated in the largest provinces. Sales fell 2.3 per cent in Ontario, while Quebec saw a 2.7 per cent drop.
Statistics Canada, however, did release an upward revision to its retail sales data for March. The updated reading shows a 0.8 per cent increase, compared to its preliminary 0.6 per cent estimate.
Friday's reports will help feed the Bank of Canada's deliberations as its governing council considers its next interest rate decision.
For inflation, the bank can use interest rate hikes as a tool to help prevent it from climbing too high. The Bank of Canada tries to keep inflation from moving outside a range of between one and three per cent.
Recent inflation readings _ including Friday's _ have been hovering just above the two per cent mid-point of the bank's target range.
It's unlikely, however, to have a significant impact on upcoming rate decisions because governor Poloz has predicted inflation to stay above two per cent for all of 2018. He's predicted inflation to average 2.3 per cent this year before settling back down to 2.1 per cent in 2019 _ in large part due to the temporary effects of higher gas prices and the introduction of minimum wage increases in some provinces.
He's raised the trend-setting interest rate three times since last July, but he hasn't touched the rate since January. It's been at 1.25 per cent ever since.
Michael Distefano
Mortgage Agent and Manager of operations
DLC BTB Mortgage Solutions FSCO 12039
Niagara largest Mortgage Broker
106- 5017 Victoria Ave Niagara Falls L2E4C9
T 905 357 5366 F 905 357 6654 C 905 246 5363
APPLY ONLINE ANYTIME http://betterthanbankmortgage.com/mortgages/how-to-apply/
Check out our full line of DLC Visa cards
http://betterthanbankmortgage.com/visa-cards/
by Andy Blatchford
June 22nd 2018
The Canadian Press