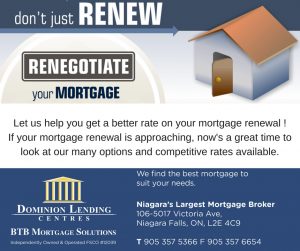 It's hard to look past what's right in front of you. That can be said for a lot of things in life, including a mortgage.
So it should come as no surprise that roughly six-in-10 homeowners with the standard five-year fixed rate mortgage break their terms within three years. And as brokers, we've heard all of the reasons. Some are good and some are less fortunate. There are those who want to leverage recent large increased in property value for investment terms, or they want to get some equity out of their home to do some renovations. In other cases, it can be life events like divorce, new relationship, the kids going off to college, or just paying down some built up credit card or consumer debt. Some people are lucky enough to be in a position to pay off the mortgage early.
In fact, if you're reading this and have had a mortgage long enough, one of the things listed above has probably come into your life. But they all come at a cost. So as you sit down to either renew or get a new mortgage, take some time to think about the future. Not five months ahead, but five, seven or even 10 years ahead.
If you're really not sure what the future that far away is going to look like, you need to consider some options before you sign on the dotted line. It could save you money.
If you're a fixed-rate person, it's important to understand how your lender is going to calculate the penalty when you break the mortgage.
Big banks calculate penalties based on the discount they gave you off of their posted rates at the time you first got your mortgage. They take their new posted rate for the amount of time you have left in your mortgage (3-years, 4-years etc.), apply the same Discount they first gave you and then calculate how much interest they would lose as the difference between the two for the rest of the term calculated on your current balance. That is your penalty and it can be quite hefty.
But other lenders like credit unions will use the interest rate differential or three month interest penalty.
What can you do? You could sign on for a fixed-year rate for a shorter term, like three years. That just obviously shortens the length of the mortgage. Or you can also consider a variable rate since the penalties to break the term are much lower.
While it may be tempting to just stick with the big bank, you'll want to talk to a mortgage broker first. Mortgage brokers have access to all kinds of lenders from credit unions to monolines (a monoline is considered a company specializing in a single type of financial service, like a mortgage) which can arrange better terms if you do need to cut your mortgage early.
We are Canada's largest and fastest-growing mortgage brokerage! Our Mortgage Professionals are Experts in their field and many are ranked among the best nationally. We work for you, not the lenders, so your best interests will always be our number one priority We have more than 100 mortgage programs, making it easy to choose the best fit for your unique situation.  We can process your mortgage in as few as 7 days. We are the preferred mortgage lender for several of Canada's top companies. Dominion Lending Centres' Mortgage Professionals are available anytime, anywhere, evenings and weekends – and we'll even come to you!
APPLY ONLINE https://secure.dominionlending.ca/?app=11431&lang=en
DLC BTB Mortgage Solutions FSCO 12039
Niagara largest Mortgage Broker
106- 5017 Victoria Ave Niagara Falls L2E4C9
T 905 357 5366 F 905 357 6654 C 905 246 5363
Check out our full line of DLC Visa cards http://betterthanbankmortgage.com/visa-cards/