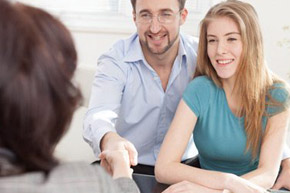 There's little doubt, the biggest purchase in your life will be a home. So when you're embarking on what can be both an exciting and stressful journey, you want the best professionals by your side. When it comes to picking a broker to handle your mortgage, it's not always easy to decide who to choose.
There are roughly 18,000 mortgage professionals in Canada. While most are honorable and great at their job, it's important to find the broker that works best for you.
Nowadays, there's plenty of information or reviews on any given broker at your fingertips. While those searches can give you pretty good insight into a potential broker, there's a few things you also might want to consider that can help make that decision a little easier.
I know it's tempting to choose a broker who has an abundance of clients and years of experience in the industry. While it's never a bad idea to go with the established, be open to picking someone who might be newer, hungry and striving to be better. Also, with a busy firm, you may end up being a small fish in a big pond, and not get quite as much attention as you'd like.
As brokers, we spend a lot time using our industry jargon because it comes natural to us. We work in it every day. But for the average person, some of the terms in a mortgage can be downright confusing. And in a lot of situations, people don't want to speak up because they don't want to sound dumb. Look for a broker who is going to keep it simple for you, so you understand exactly what you're getting in your mortgage.
Ultimately, it comes down to the mortgage product. But don't be blinded by a broker who is selling you on a rate and making promises to pay for fees. It's a big red flag. If they say they're going to pay for everything, they're desperate for anything.
Of course the rate matters, but the characteristics of your mortgage matter more and could end up costing you in the long run.
You want a broker who's going to listen to you and ask you about your needs and future goals. Why are your plans five or 10 years from now so important? Consider that nearly 70 per cent of mortgages are broken within three years. Even if you're sure of today, life happens and tomorrow could be different. You need to at least consider the penalties for ducking out of your mortgage early, or if it's even portable.
The best mortgage brokers in the business will make sure they've got all of your bases covered, and you're fully aware of what you're signing onto.
Michael Distefano
Mortgage Agent and Manager of operations
DLC BTB Mortgage Solutions FSCO 12039
Niagara's largest Mortgage Broker
106- 5017 Victoria Ave Niagara Falls L2E4C9
miked@beatthebankmortgage.ca
T 905 357 5366 F 905 357 6654 C 905 246 5363
APPLY ONLINE ANYTIME http://betterthanbankmortgage.com/mortgages/how-to-apply/
Check out our full line of DLC Visa cards http://betterthanbankmortgage.com/visa-cards/